Low Moisture Carpet Cleaning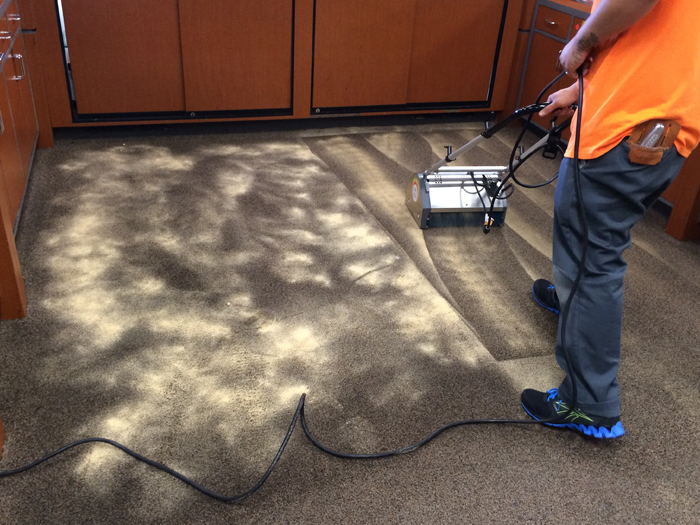 Low moisture carpet cleaning is a relatively new carpet cleaning technique versus the traditional hot water extraction method of cleaning that you may be used to seeing on TV. Low moisture carpet cleaning as its name suggests is a carpet cleaning method that requires very little water to clean your carpet.
This innovation in carpet care allows us to use 95% less water while achieving the same results. The encapsulation cleaning agent that we use traps the soils in your carpet, while our carpet cleaning technicians use a counter-rotating brush to lightly scrub the carpet fibers from the base of your carpet up.
Even though low moisture carpet cleaning uses less water your carpet is receiving the same superior care you expect from a professional carpet cleaning company.
Our low-moisture carpet cleaning service is quick and will have you back in your home within an hour. In addition to a carpet that is residue free, our encapsulation product comes with built-in protectants that will help keep your carpet cleaner longer.
Low moisture carpet cleaning saves you time.
Low moisture carpet cleaning is an economical alternative to hot water extraction cleaning.
Your carpet dries within an hour.
Conserves water/protects the environment
We recommend our low moisture carpet cleaning services to anyone that is looking for a robust and affordable carpet cleaning service.
Our goal is to be the most environmentally conscious carpet cleaning in the Hampton Roads area.  Helps us reach this goal by using our low moisture carpet cleaning service today!
Make Carpet Repair Hampton Roads your only call for your carpet cleaning needs. Contact us today at 757-500-0827. We look forward to serving you.